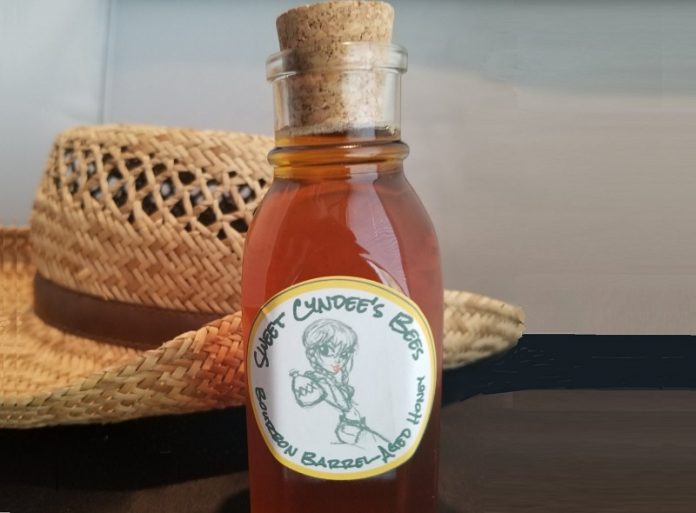 Honey with Style from Frank Moriarty produces 20+ award-winning, completely natural honey and honey-enhanced food products.
Shop & support Honey With Style at the Oak Brook Artisan Market at The Drake Hotel – Oak Brook on Sat & Sun, May 22-23, 2021. This 2-day outdoor market showcases the Midwest's finest artisans in fashion, food, home goods + art. (mask required in market area)
Honey With Style works with selected local beekeepers to provide the best, most delicious honey from hives located in Lake County Illinois and in southern Wisconsin. Their goal is to provide you with only the highest quality, all-natural honey, creme honey, and other honey-infused food products. (Pictured below: world-class bee wrangler)
Their unBEElievably tasty products include:

• Honey – coming in a variety of sizes, they offer raw wildflower honey, Bourbon Barrel Aged Honey, hot honey and infused honey using natural flavors including cranberry, lemon, lavender, vanilla, and cinnamon.
• Honey Creme – using an old, almost forgotten recipe, they turn honey into wonderful, gluten-free, non-dairy, creme spreads, available in over a dozen flavors. It's delicious as a spread on English muffins, bagels, waffles, pancakes or over ice cream, and it makes a perfect addition to any charcuterie board.
• Cyndee's Sweet Honey Mustard – made with an overly generous helping of their delicious, all-natural honey, it has a wonderful, sweet edge to use anywhere you'd use table mustard.
• Frank's StickyHoney BBQ Sauce – using an old family recipe, this BBQ sauce gets it's wonderful flavor boost from honey.
• Honey Toffee – premium toffee made with Guittard Chocolate is available in milk and dark chocolates. Generous helpings of delicious honey give these freshly made toffees that extra taste boost.
Did you know…
• A typical beehive has from 20,000 to 50,000 bees living in one hive.
• A worker honey bee collects enough nectar in her lifetime to produce just 1/12 of a teaspoon of honey.
Honey With Style was awarded 2nd Place nationally for their Light Amber honey at the American Bee Federation in July 2018. They were also awarded 1st Place for their Ultra Light Honey at the Heartland Apicultural Society competition in July 2019.
How it all BEEgan:
Frank has been fascinated with bees since his early childhood and would watch them forage for nectar amongst the wildflowers. He and his wife Cyndee keep some hives on their property in northern Illinois. Frank is the current President of the Lake County Beekeepers Association, and he started "The NewBeez" which is a series of programs and training to help new beekeepers become better stewards of the wonderful, industrious, hardworking, and fascinating honeybees.
Honey with Style
Northwest Suburbs
View Website
More things to do in Chicago:
• Oak Brook Artisan Market – 2-Day Outdoor Market in Oak Brook, IL
• Chicago Artisan Market – Best of the Midwest in Fulton Market and Ravenswood