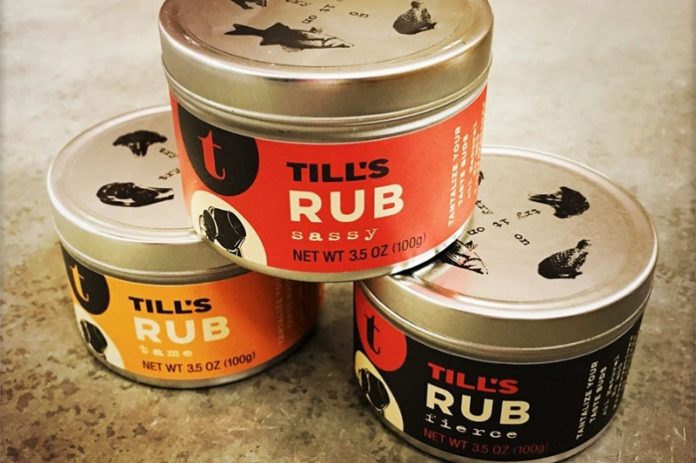 Swiss-born Till Grob developed a love for seasoning mixes and rub at an early age, and with a knack for flavor combinations, he set his mind to mixing up a spice blend that would rival the best. One idea spawned another and Till?s Tastes was born.
Till's Tastes Rub is an all purpose seasoning dry rub offered in three different heat levels.
? Sassy – Their original combination of chiles, herbs and spices mixed with salt and sugar. Perfect if you like bold flavors with just the right balance of medium heat and sweetness.
? Fierce – The same fantastic flavors of the "Sassy" rub but with that extra kick of Habanero chiles. Perfect to make you sweat just a little.
? Tame – The mild version of the three. A mix of different paprikas, herbs, spices, salt and sugar with just a hint of smoke. The perfect punch of flavor without the heat.
Meet and shop with Till of Till's Tastes at the Chicago Artisan Market on Sunday, December 1, 2019 from 10am-4pm at Morgan MFG (401 N. Morgan St.), where he will join 110+ top artisans in food, fashion, home goods + art.
Why we love it:
Till's Tastes boasts "No Bull" natural ingredients – that means, no msg, no gluten, no lame fillers… just bad ass flavors with the right amount of heat. Fans use Till?s Rub on meat, poultry, fish and seafood. They also throw it on potatoes and veggies and mix it in dips. There?s no going wrong with these vegan rubs.
Their Vision:
For every home cook to be excited, fearless and successful in the kitchen.
Their Mission:
Tantalize your taste buds with superior flavor enhancing seasonings that set themselves apart from the rest in taste, quality and versatility.
Who is Till?
Born and raised in Switzerland, Till always knew that

his future was in food. From his first career aspiration at age 6 to become a butcher to building Till?s Tastes, every career choice has revolved around food. Heavily influenced in his culinary style by his grandmother and mother?s cooking he has honed his skills over the years.
He earned a degree in Hotel and Restaurant Management at the top of his class. With the degree and practical experience in both cooking and serving in some of the best restaurants in Zurich, he set out for California.
Over the next 22 years he experienced every aspect of hospitality with companies such as InterContinental Hotels, Fairmont Hotels & Resorts, Hard Rock, Sheraton and Compass Group. From washing dishes to managing restaurants and bars, from fast food to fine dining, from hotel to coffee shop, from corporate food service to convention center operations, Till has done it all.
Till lives in a suburb of Chicago with his family and loves cooking up new flavor combinations to tantalize your taste buds.
Till?s Tastes
Downers Grove, IL
View Website
Related Events:
* Chicago Artisan Market ? 100+ Artisans in Food, Fashion, Home Goods + Art
* Oak Brook Artisan Market ? 2-Day Outdoor Market at Oakbrook Center
* StyleChicago.com?s 6th annual Cruise in Style (Dinner Cruise) aboard the Odyssey