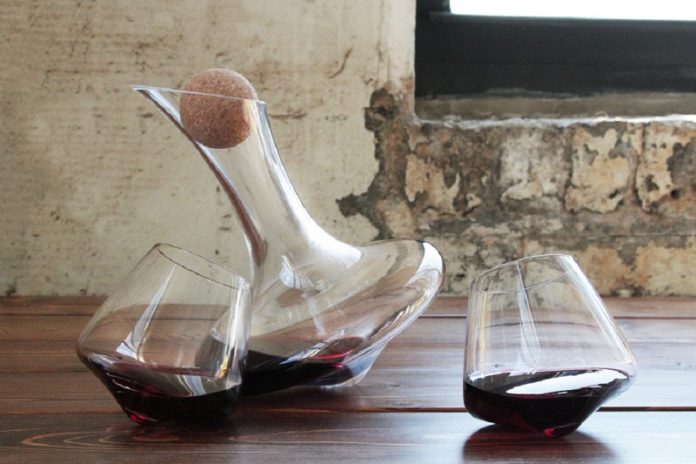 Swoon Living (formerly known as 3-Switch) is a Chicago-based company from Patrick Fitzgerald, that designs and produces handcrafted glass barware and unique wooden home goods.
We are happy to welcome Swoon Living to the Chicago Artisan Market at Morgan MFG (401 N. Morgan St., Chicago) on Sunday, December 1, 2019 (10am-4pm). Discover 100+ top Chicago & Midwest artisans in food, fashion, home goods + art.
Founded in 2012 by Patrick, a designer and prototype engineer, Swoon Living is known for their revolving glassware including wine glasses, decanters and cocktail glasses. All the glasses come with custom stands that are available for personalization with laser etching. (They make a perfect wedding gift or housewarming present.)
The Swoon Living line includes:
• Wine – glasses, decanters, wood stands
• Spirites – flight glasses, glasses, decanters
• Decor & Bar – s'mores kit, bottle openers, candles, wall art
• Furniture – coffee & pub tables, bar stools
The wine and spirits glassware are hand blown to revolve. As the decanters and glasses rotate, they aerate, don't spill and offer and additional level of entertainment to your drinking. As the glasses rotate, the wine or spirit come in contact with more oxygen which makes them taste better.
Hand-blown glassware means each piece gets one-on-one attention from the artisans to ensure the highest level of craftsmanship and quality does into each piece. The wood pieces are created from locally sourced Illinois reclaimed barn wood and local Maple and Walnut timber.
Swoon Living
Chicago, IL
View Website