RAW EDGE, offering designs and creations from owner Maria Belokurova, creates handmade leather and beaded jewelry and accessories that are hippy-chic paired with a classic, earthy feel.
Shop & support RAW EDGE at the Oak Brook Artisan Market at The Drake Hotel – Oak Brook on Sat & Sun, Apr 17-18 and May 17-18, 2021. This 2-day outdoor market showcases top Midwest artisans in fashion, food, home goods and art. (mask required in market area)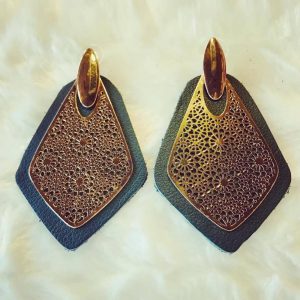 Maria is always looking for inspiration in all aspects of her life, and having lived in many different countries, she seeks to find materials from different cultures to incorporate into her jewelry designs.
She hand crafts all the jewelry, and each piece can customized to deliver the perfect fashion statement. All the leather she uses has been donated by local businesses (Bloomingdale's home store, Columbia College Chicago, Discount Textile Outlet Chicago) as she is a believer in sustainable fashion and upcycling. Maria likes to find old, damaged accessories and repurpose them, often finding accent pieces in local flea markets.
All the RAW EDGE by Eva Airam Studio jewelry pieces are hand cut as are all the leather parts of the accessories. Everything is made in Maria's home studio located in Chicago.
Raw Edge by Eva Airam
Chicago, IL
View Website
Other things to do in Chicago:
• Chicago Artisan Market – Food, Fashion, Home Goods & Art
• Oak Brook Artisan Market – 2-Day Outdoor Market in Oak Brook, IL
• StyleChicago.com's 7th annual Cruise in Style aboard the Odyssey