It'll Glow On You Illustrations, from illustrator Carolyn Kassnoff, creates animal pet portraits and drawings of animals doing human things like biking, skiing, or reading. The drawings are then transferred onto mugs, temporary tattoos, prints, greeting cards, stickers, planters and other gift items.
We look forward to welcoming It'll Glow On You Illustrations to the Chicago Artisan Market on Sunday, December 1, 2019 from 10am-4pm at Morgan MFG (401 N. Morgan St.), where they will join 110+ top artisans in food, fashion, home goods + art.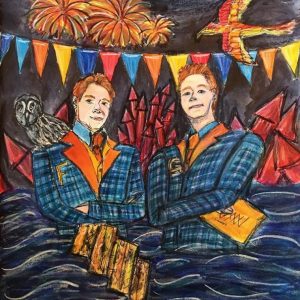 Carolyn has been drawing since before she can remember, and she likes creating things that make people happy. She studied portrait and figure drawing, but her favorite thing to make is anything that makes someone laugh and smile. Finding inspiration in cheerful pups and playful dogs, she loves to use puns in her illustrations.
All the It'll Glow On You Illustrations can be printed on a mug, or as a matted wall print. Cheering people up with her art is one of her greatest joys. Accommodating customers for special and custom orders, you can contact Carolyn directly for what you need.
About the artist:
Carolyn Kassnoff graduated with a BFA from the School of Art & Design at Alfred University in New York state, where she studied photography and neon bending.
She has a strong passion for dogs, maps, travel, music, nature and pattern, which she often incorporates in her work. She resides in Chicago and pets all the dogs in her free time.
It'll Glow On You Illustrations
Chicago, IL
View Website