CIVAL Collective an eclectic jewelry design company, studio space and boutique in Milwaukee, WI. Their exquisitely designed and hand-crafted jewelry uses the highest quality brass, semi-precious natural stones and leather.
We are happy to welcome CIVAL Collective back to the Chicago Artisan Market on Sunday, May 17, 2020 at Morgan MFG (401 N. Morgan St., Chicago). Discover 100+ top Chicago & Midwest artisans in food, fashion, home goods + art.
Made with purpose, evoking a strong sense of self expression and creative awareness – CIVAL Collective makes striking, durable designs that bring with them a stroke of confidence.
The CIVAL collection features: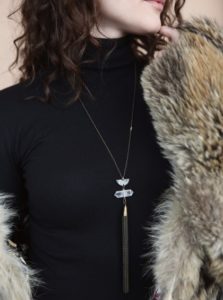 • Bridal – natural unbleached iridescent pearl & gemstone
• Necklaces – statement and layering pieces with adjustable chain length options
• Earrings – sterling silver posts or nickel, lead and cadmium free hooks
• Bracelets – brass, beads, leather or fabric
How it all started:
CIVAL was established in 2013 out of a desire for financial and creative independence while Rae, the founder, was working in creative positions in the corporate world. Shortly after moving to Milwaukee, Rae began selling her designs to local shops and applying to weekend artisan markets. After a successful year of sales, Rae felt confident to peruse designing full time and bring in other creatives to help the company grow.
Rae's team is a collection of bold creative women, with backgrounds in art, design, fashion and retail. The brand and its designs hold diverse personality, born out of the collaborative and creative nature of their work environment, the natural intuition of its makers and strength in craftsmanship of their brand.
CIVAL Collective
524 W. National Ave.
Milwaukee, WI 53204
View Website
More things to do in Chicago:
• Oak Brook Artisan Market – 2-Day Outdoor Market at Oakbrook Center
• StyleChicago.com's 7th annual Cruise in Style aboard the Odyssey