Celestial Kitchens from Celeste Dolan is a small-batch bake shop where old-fashioned quality mixes with innovative recipes and design. Celestial Kitchens: Baking the world a better place.
For Celestial Kitchens, baking is a time when the otherwise humble ingredients of flour, butter, sugar and yeast form the alphabet of Celeste's baking history and culture. She hopes her offerings form this connection with you and yours during all of the year's celebrations, whether it's your big day or one of the many holidays celebrated throughout the year.
We are excited to have Celeste of Celestial Kitchens join us at the Chicago Artisan Market on Sunday, March 8, 2020 at Morgan MFG (401 N. Morgan St., Chicago). Discover 100+ top Chicago & Midwest artisans in food, fashion, home goods + art.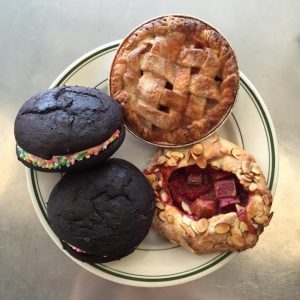 At Celestial Kitchens, they are always looking for a reason to celebrate. Along with holiday menus, they also have seasonal specialties which they rotate as the seasons change, thus allowing them to bring you the freshest ingredients throughout the year.
Celeste loves baking and often tries to incorporate savory with the sweet. There's nothing better than a savory concoction enveloped in a flaky pastry dough of some sort.
About Celeste Dolan, proprietor:
Celeste Dolan, of Celestial Kitchens, grew up in the kitchen where her grandmother taught her how to bake, and her mother, the consummate party planner, brought it all together.
After working professionally for two decades as a graphic designer, Celeste followed her spirit into the kitchen, bringing her keen design sense with her. The result is a marvelous array of cookies, sweet and savory galettes and hand pies, clever sweet tables and stunning cakes for weddings and special occasions that taste as great as they look.
Celestial Kitchens
Chicago, IL
View Website
More things to do in Chicago:
• Oak Brook Artisan Market – 2-Day Outdoor Market at Oakbrook Center
• StyleChicago.com's 7th annual Cruise in Style aboard the Odyssey