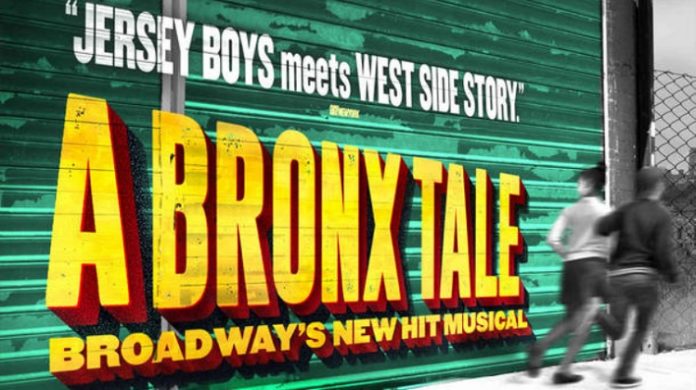 In 1960s New York City, a young man is caught between the father he loves and the mob boss he'd love to be in A Bronx Tale, coming to the James M. Nederlander Theatre in Chicago.
Purchase discount tickets to this event.
Start Date: Tuesday, March 12, 2019
End Date: Sunday, March 24, 2019
Time: varies by date
Location: James M. Nederlander Theatre – 24 W. Randolph St., Chicago, IL 60601
Cost: $39 – $69 (Ticketing processing fees apply.)
Buy Tickets
Additional dates and times may be available. Times and prices vary by date. Please view ticketing page for details.
Bursting with high-energy dance numbers and original doo-wop tunes from legendary composer Alan Menken, this "Jersey Boys meets West Side Story" musical is a Broadway smash with loads of behind-the-scenes talent, including Oscar winner Robert DeNiro, Tony winner Jerry Zaks and Oscar nominee Chazz Palminteri. This unforgettable story of loyalty and family is "the kind of tale that makes you laugh and cry" (The New York Times) and is bringing 10 alumni from the Broadway production on this national tour.
More half-price, discount and pre-sale theater tickets, comedy, musicals and more.
Discount Parking:
StyleChicago.com recommends booking convenient & affordable parking in advance through SpotHero, the nation?s leading parking reservation app & website.
Reserve Parking