Von Lucy Mobile Boutique is a mobile fashion boutique catering to women in both regular and plus sizes. Based in the Chicago area, every item is handpicked by buyers to deliver trendy, casual to sexy, quality apparel at a reasonable price. Clothing is selected from reputable vendors chosen from trade shows so they can offer you a great shopping experience.
The Von Lucy Mobile Boutique will be joining us indoors at StyleChicago.com's Resolutions 2020 at the W Chicago – City Center on Friday, January 31, 2020. Update your look for the new decade with owner and stylist Ericha.
Updated your whole closet: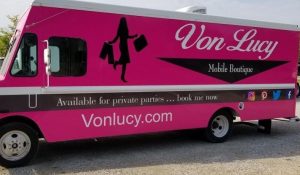 • Accessories – handbags, hats, jewelry, scarves
• Athletic Wear – sportswear tops and bottoms
• Bottoms – pants, skirts
• Tops – blazers, shirts, blouses, sweaters
• Curvy – dresses, tops, bottoms
• Outwear – jackets, ponchos
Easily recognized by the hot pink truck, Von Lucy gives you a great shopping experience, whether you're shopping on the truck, online or having the truck stop by for you to shop from your home or business. The truck can even be booked for private events and parties, too.
Von Lucy Mobile Boutique
Naperville, IL
View Website