Thomas Tampa is a wood worker who makes solid-wood charcuterie boards, cutting boards, trivets and knife blocks. All his products are made from natural wood, highlighting the wood's natural colors, without using any stains or dyes.
Meet & shop with Thomas Tampa at the Holiday edition of the Chicago Artisan Market on Sunday, December 1, 2019 from 10am-4pm at Morgan MFG (401 N. Morgan St.). Discover 100+ top Chicago & Midwest artisans in food, fashion, home goods + art.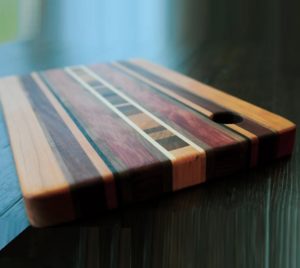 Tom's specialty is the wood inlay process. He likes to feature the beauty of the natural colors from hardwoods and bring them to life. The Thomas Tampa creations are both beautiful and practical, and they include kitchen items such as cutting boards, trivets and knife blocks as well as heirloom quality furniture like end tables and console tables with drawers.
Tom uses many exotic like Bubinga and Wenge from Africa and Purple Heart from Latin America. His choice of domestic woods include walnut, cherry and Tiger Wood Maple.
Cutting Board Care

? Regular Care – Wooden boards should only be hand-washed and never run through the dishwasher or left to soak in the sink. Wash with hot, soapy water after each use then towel dry. Thoroughly air dry prior to storing.
? Long Term Care – Boards should be oiled on a semi-regular basis to help heal the surface and prevent damage to the wood. Oiling should be done whenever the board looks dull. Before oiling, be sure the board is very clean and dry. The Thomas Tampa Wood Conditioner is eco-friendly and made with a combination of beeswax and coconut oil. Avoid regular cooking oils as they will go rancid, causing your board to smell and become sticky.
About Thomas Tampa:
Tom Tampa is a woodworking artist from Plainfield, IL who was introduced to, and fell in love with, woodworking in high school.
Thomas Tampa
Plainfield, IL
View Website