Silver Screen to Mainstream: American Fashion in the 1930s & '40s is a new exhibit at the Chicago History Museum that tracks how Hollywood glamour inspired mass-market fashion trends. Showcasing fashions from Paris, New York, Chicago, and Hollywood, the show tells a tale of making it big, making do, and maintaining appearances during a tumultuous era in American history.
Start Date: Tuesday, April 8, 2019
End Date: Tuesday, January 21, 2020
Time: varies by date
Location: Chicago History Museum – 1601 N. Clark St., Chicago, IL 60614
Cost: $17 – $19 (Ticketing processing fees apply.)
City of Chicago residents receive a $2 discount (with valid I.D.) Illinois resident children under 18 are FREE. Non-Illinois resident children 12 and under are FREE.
Illinois Resident Discount Days:
The Museum is free to Illinois residents every Tuesday* from 12:30 to 9:00 p.m. and on Commemorative Days: Martin Luther King Jr. Day, Presidents? Day, March 4, and July 4. *Excludes December 17, December 24 and December 31.
Meet the Original Influencers:
Featuring thirty garments by designers such as Chanel, Vionnet, Valentina, Paul du Pont, Howard Greer, and Adrian, you will be introduced to a time when sophisticated design lent a perception of stability as the nation grappled with its reinvention.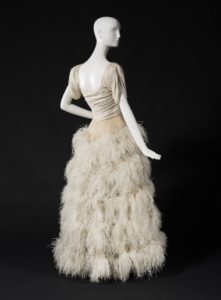 View the Collection:
This collection is now accessible to the public through the Museum?s Research Center, which holds the Museum?s archives, manuscripts, prints and photographs and more.
Featuring an essay authored by the exhibition curator, Virginia Heaven, this publication serves as a companion to the Silver Screen to Mainstream exhibit. The catalog documents artifacts from the Chicago History Museum's famed costume collection featured in the exhibition so you can take home all of the garments, accessories, and their stories.
Silver Screen to Mainstream is sponsored by the Costume Council of the Chicago History Museum with presenting sponsor Liz Stiffel. Established in part by the Elizabeth Morse Charitable Trust and the Elizabeth Morse Genius Charitable Trust, the Exhibition Innovation Fund has provided additional funding for this exhibition.
Chicago History Museum
1601 N. Clark St.
Chicago, IL 60614
312.642.4600
View Website
Related Events:
* StyleChicago.com's 6th annual Cruise in Style aboard the Odyssey
* Chicago Artisan Market – 100+ Artisans in Food, Fashion, Home Goods + Art
* Oak Brook Artisan Market – 2-Day Outdoor Market at Oakbrook Center