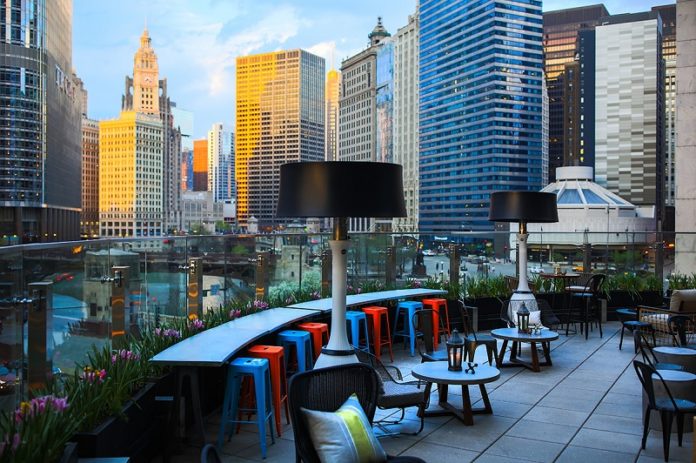 Raised | An Urban Rooftop Bar, located in the Renaissance Chicago Downtown Hotel, delivers unparalleled service and breathtaking views of Chicago. Experience the indoor/outdoor bar featuring an open rooftop deck and private VIP greenhouse overlooking Chicago?s skyline.
The name Raised, refers to many conceptual layers: the iconic bascule drawbridges that line the Chicago river, the river locks that raise the water for passing boats and the elevation of the urban rooftop location. The name also draws inspiration from the urban gardener and the DIY hop grower, brew master or wine maker with the notion of raised garden beds, hop plants and grape vines.
We are excited to have Raised | An Urban Rooftop Bar serving tasty treats at StyleChicago.com?s Resolutions 2019 at the W Chicago ? City Center on Friday, January 18, 2019.
With an industrial aesthetic, eclectic style and raw finishes, Raised welcomes locals and guests to enjoy the indoor/outdoor bar, open roof deck and private outdoor areas overlooking the scenic downtown Chicago River view.
Raised | An Urban Rooftop Bar has raised the bar of service while encouraging you to enjoy the relaxed luxury atmosphere and to raise your glass in celebration to an unforgettable Chicago dining experience.
The Menu
Raised features American bar food with a twist, highlighting sharable plates ? ideal for mixing and mingling. The chefs focus on all things local, sourcing menu ingredients within 200 miles of Raised. The bar-focused classics are presented with surprising twists that will delight every palate. Kitchen closes at 10pm every day.
The Beverages
Designed to complement the chef?s American cuisine, the beverage program at Raised features an array of wine, beer and cocktails. Local breweries are the highlight, featuring six rotating draft beers together with over 40 beers by the bottle from breweries located throughout the neighborhoods of Chicago, including Off Color Brewing from Logan Square, Local Option from Lincoln Park and many more. With eight wines on tap, guests have the option of ordering wine by the glass, or they may enjoy more than 35 wines by the bottle, ranging from champagne, old-and new-world reds and whites, as well as a selection of summery ros?s. With a cocktail program that includes offerings both by the glass and/or decanters for groups, the creative libations with seasonal, fresh ingredients encourage guests to sample and share. Raise a glass in Raised?s collection of rare, interesting glassware, with house-made cocktails being a focal point.
Raised Bar is open to those ages 21 and up.
Raised does not take reservations – it is first come, first served. However, if you are interested in booking a party of 10 or more people please contact them or call at 312.795.3308. Raised is the perfect setting for celebrations – join them for your holiday parties, wedding rehearsal dinners, birthdays, winter celebrations, small wedding receptions, small corporate gatherings, proposals, anniversaries, graduation parties or just a night out on the town!
Raised | An Urban Rooftop Bar
Renaissance Chicago Downtown Hotel
1 W. Upper Wacker Dr.
Chicago, IL 60601
312.795.3444
View Website