Dubhe Carreno, the Chicago-based artist behind This Quiet Dust ceramics, creates handmade porcelain tableware. Her designs present simple forms inspired by a minimalist aesthetic using colors and textures found in nature. Her forms are intentionally irregular to highlight the presence of the artist?s hand, which honors the clay?s voice as a collaborator in the process of creating each individual form.
Meet Dubhe Carre?o at the Chicago Artisan Market at Morgan Manufacturing (401 N. Morgan St., Chicago) on Sunday, September 22, 2019 (10am-4pm) along with 100+ of Chicago?s finest artisans in food, fashion, home goods + art.
In addition to being beautiful, Dubhe's tableware is strong, functional and durable. From a practical standpoint, it is microwave and dishwasher safe. In terms of durability, it is meant to last for generations. Each object is intended to be mixed and matched with the different glazes to allude to the colors found in nature (e.g. a riverbed full of stones of many different hues).
How is it made?
Carre?o's tableware is made with a mid-range-temperature porcelain and fired in an oxidation atmosphere kiln. Bowls and cups are made in the potter?s wheel and plates are made by rolling clay into slabs, which are then carefully cut by hand. After the first firing, glaze is either poured or dipped into a mixture of suspended mineral oxides that compose each of thee glazes used. Forms are then placed into a second firing which makes the clay vitreous and hardens the glaze.
More about Dubhe Carre?o
Dubhe Carre?o was born in Caracas, Venezuela. At 18 years old she came to the United States to continue her dance training and pursue a career in classical dance. Her foray into pottery initially began as an outlet to relieve the stress. She started her study in pottery at the School of the Museum of Fine Arts, Boston. She later graduated from Massachusetts College of Art with a concentration in ceramics in 1999 and an MFA from the School of the Art Institute of Chicago (SAIC) in 2001. After graduation, Dubhe was hired as an instructor by both the School of the Art Institute of Chicago and Northeastern Illinois University.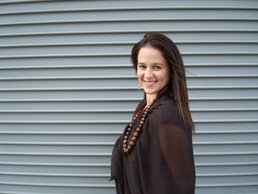 For almost ten years the Dubhe Carre?o Gallery was known as the prime platform in Chicago for presenting contemporary ceramics by international artists. Dubhe closed her gallery in 2012 after having her first child and noticing that she missed the direct contact with clay. This created the perfect opportunity to reconnect with her own studio practice which developed into a rediscovery of her passion for functional objects and the meditative quality of working with clay.
"My process is led by clay itself and its natural ability to be altered and transformed by forces ranging from a delicate pinch to a blasting fire. My artistic practice is an extension of my personal growth. The meditative quality of working in the studio brings me closer to present-mindedness and to a place where intention materializes in front of my eyes. The name "This Quiet Dust" is a poem by Emily Dickinson which serves as a metaphor for the human condition; we are impermanent in our physical form, yet our true nature is transformative and everlasting. Likewise, "this" clay can be transformed from dust to become that which holds our sustenance."
This Quiet Dust
Chicago, IL
View Website