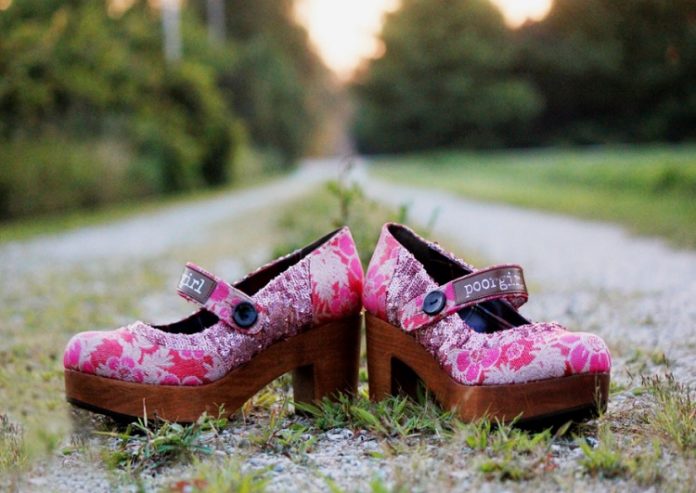 Poorgirl Shoes are designed by Mary Lawrence and represent courage, strength and determination. She designed Poorgirl for all the girls and women out there who are walking in their own unique journeys… for the girls with the gumption.
Meet & shop with Mary Lawrence of Poorgirl Shoes at the Chicago Artisan Market on Sunday, March 8, 2020 at Morgan MFG (401 N. Morgan St., Chicago). Discover 100+ top Chicago & Midwest artisans in food, fashion, home goods + art.
The Veronica Shoe:
• Your foot is cradled on a 3-inch solid Adler wood heel on a 1-inch platform wedge.
• Beautiful vegan or material uppers lighten your spirit and put a kick in your step.
• Available in Italian sizes 36-40, with additional custom sizes available to be ordered.
• Designed by Mary and handmade in Italy.
The story behind the shoes:

The Poorgirl Shoes brand is about being proud of who you are and the circumstances that form each woman. The brand is very personal to Mary as she shares in her words. "When I hold these shoes in my hand a flood of emotions overwhelm me. Most are happy, but some have truly broken me. I remember being 5 years old, twirling at the shoe store in my new Mary Janes. I remember being 18 as I boarded the train to Chicago heading for art school. I remember the joy of all three of my children being born. I remember being 29 as I held my youngest child in the hospital after he had died. I remember the depression and the eating disorder I battled for years. I once read a quote that said '…and then I heard a whisper, you are meant for more than this…' Be brave. It's time to be real."
Poorgirl Shoes
Chicago, IL
Poorgirl Shoes
More things to do in Chicago:
• Oak Brook Artisan Market – 2-Day Outdoor Market at Oakbrook Center
• StyleChicago.com's 7th annual Cruise in Style aboard the Odyssey