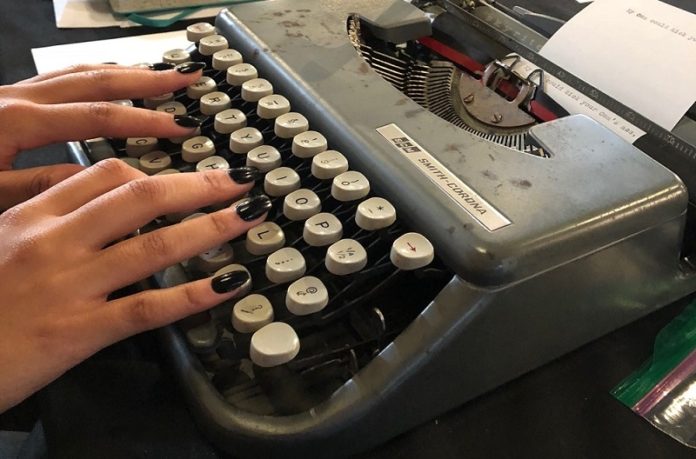 Poems While You Wait, founded by Dave Landsberger, Kathleen Rooney and Eric Plattner, is a collective of poets and their manual typewriters whose mission is to appear around the city in public places – street festivals, museums, libraries, theaters and other events – to provide their patrons with a magical, unexpected, unpretentious and decontextualized encounter with poetry. No requested topic is too big or too small, too funny or too sad, too silly or too serious.
Visit Poems While You Wait at the Chicago Artisan Market in Fulton Market on Sunday, October 17, 2021 at Morgan MFG (401 N. Morgan St., Chicago) and have a custom poem written for you or someone you care about.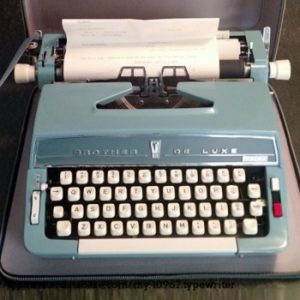 Getting your personalized poem is an easy five-step process:
Step 1: Poems While You Wait shows up with their trusty typewriters. Insert paper. Wait for you.
Step 2: You show up with your trusty enthusiasm. Give them your topic and a $5 donation. (100% of proceeds go to support Rose Metal Press, a non-profit independent publisher of literary hybrid genres co-founded by Abigail Beckel & Kathleen Rooney.)
Step 3: You wander away. This is the "wait" part of Poems While You Wait.
Step 4: You return 10-15 minutes later to retrieve your custom, designer, hand-crafted poem.
Step 5: You wander away again, this time with an artifact, a souvenir, a gift from them to you and from you to who-knows-who, a memory of a spontaneous human interaction which resulted in fun, which is just another synonym for poetry.
About Co-founder Kathleen Rooney:
Kathleen Rooney is a founding editor of Rose Metal Press, a nonprofit publisher of literary work in hybrid genres, as well as a founding member of Poems While You Wait. She teaches in the English Department at DePaul University, and her most recent books include the national best-seller, Lillian Boxfish Takes a Walk (St. Martin's Press 2017 / Picador 2018) and The Listening Room: A Novel of Georgette and Loulou Magritte (Spork Press, 2018).
About Co-Founder Dave Landsberger:
A poet and writer, he authored Suicide by Jaguar/Suicidio por Jaguar (Jai-Alai Books), a full length collection of poems printed in both English and Spanish. A two time winner of the Academy of American Poets Award, Dave has been profiled by The New Yorker, The Chicago Tribune, and The Miami Herald for his various works.
About Co-Founder Eric Plattner:
English professor of writing and rhetoric at DePaul University.
Poems While You Wait
Chicago, IL
View Website
More things to do in Chicago:
• Oak Brook Artisan Market – 2-Day Outdoor Market in Oak Brook, IL
• Chicago Artisan Market – Best of the Midwest in Fulton Market and Ravenswood