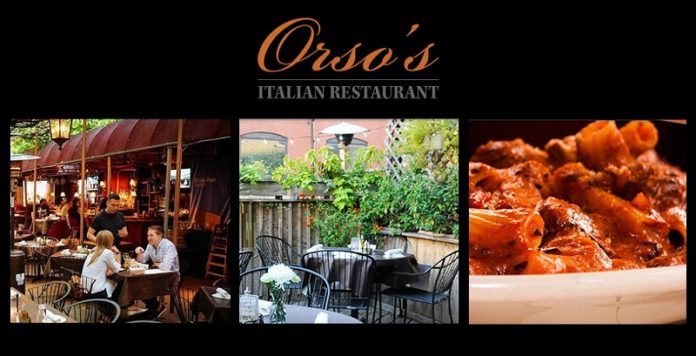 Orso's Restaurant on Wells St. is one of the original restaurants in Chicago's historic Old Town neighborhood. Full of charm and old-world atmosphere, Orso's is known for their extensive menu of authentic Italian dishes including pasta, chicken, veal and fresh fish entrees. (Orso's is still family-owned and operated.)
We are happy to have Orso's Restaurant at the Chicago Artisan Market on Sunday, March 8, 2020 at Morgan MFG (401 N. Morgan St., Chicago). Discover 100+ top Chicago & Midwest artisans in food, fashion, home goods + art.
The venue includes both indoor and outdoor areas. Their bar is heated year-round, and is perfect for group parties – everything from a simple cocktail party to an elegant wedding.
Insider Tips:
• Daily specials Monday through Thursday
• Live Piano music on Friday & Saturday night
• Sunday brunch – including kid-friendly menu
• Gluten-free pizza options are available
• Orso's patio bar is heated – all winter long!
Orso's Restaurant is located two blocks north of Division St. at the corner of Wells St. and Schiller St.
Orso's Restaurant
1401 N. Wells St.
Chicago, IL 60610
312.787-6604
View Website & Menus
More things to do in Chicago:
• Oak Brook Artisan Market – 2-Day Outdoor Market at Oakbrook Center
• StyleChicago.com's 7th annual Cruise in Style aboard the Odyssey