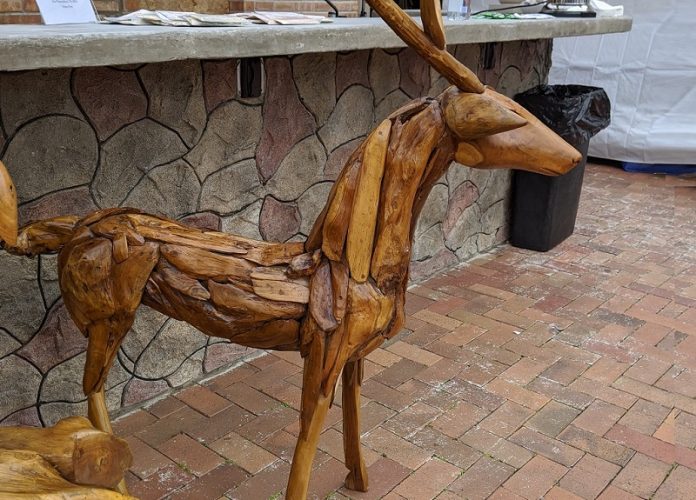 Natural Wonders from craftsman Mayolo Haro hand makes wooden art & decor for your home or garden. He hand carves bowls, vases, figurines, tables, chairs, wine holders, and more. Each and every piece is guaranteed to be one of a kind.
Shop & support Natural Wonders at the Oak Brook Artisan Market at The Drake Hotel – Oak Brook on Sat & Sun, May 22-23, 2021. This 2-day outdoor market showcases top Midwest artisans in fashion, food, home goods + art. (mask required in market area)
Natural Wonders Believes In Preserving The Planet
They work hard to provide only top quality handmade items, while maintaining an exceptional level of customer service. They take pride in the items they sell, and are committed to their values.
• They only work with reclaimed, recycled wood.
• They do not cut or intentionally harvest any trees or plants.
• They only use roots that are dead, clearing the path for new tree growth to develop.
Root carving is a major part of reforestation. By using the roots which were left behind to rot, it is actually clearing the path for new trees to be planted. All roots must be removed before a tree can be planted.
Natural Wonders uses Cedar, Eastern Red Cedar, Teak, Chinese Fir, Acacia or Monkey Pod, and more for their gorgeous creations.
Natural Wonders also sells 100% hand made goats milk soap made by Mayolo's wife. The ingredient listing is: olive oil, coconut oil, water, sodium hydroxide, organic palm oil, fresh goat milk, shea butter, and essential oils.
Natural Wonders
Northwest Chicago Suburbs
View Website
More things to do in Chicago:
• Oak Brook Artisan Market – 2-Day Outdoor Market in Oak Brook, IL
• Chicago Artisan Market – Best of the Midwest in Fulton Market and Ravenswood