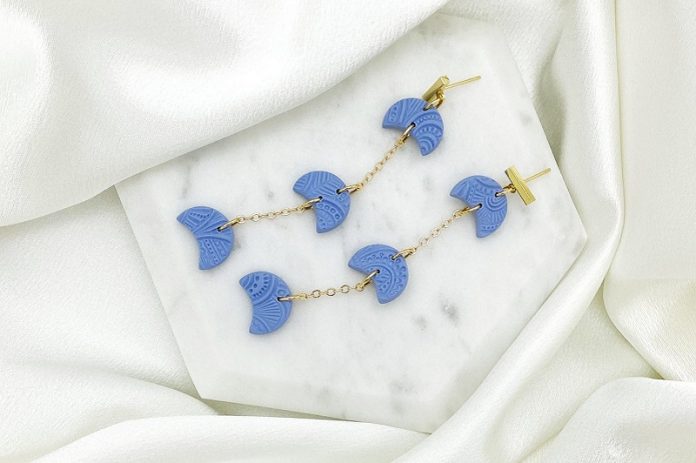 Love That from jewelry designer Grace Kim makes handcrafted polymer clay earrings with gold-plated embellishments. Each style is made in small quantities for an ever-changing selection of designs and colors to fit your mood.
Shop & support Love That at the Oak Brook Artisan Market at The Drake Hotel – Oak Brook on Sat & Sun, April 17-18, 2021. This 2-day outdoor market showcases the Midwest's finest artisans in fashion, food, home goods + art. (mask required in market area)
You can also shop & support Love That at the Chicago Artisan Market on Sat & Sun, May 1-2, 2021 at Artifact Events (4325 N. Ravenswood Ave., Chicago). Discover top Chicago & Midwest artisans in food, fashion, home goods + art. (mask required, social distancing in place)
The brand Love That was established to create one-of-a-kind pieces of wearable art that accentuates your everyday look. Each earring is slowly-crafted by hand using a lightweight clay material that is then carefully baked, sanded, and polished. Each piece is completed with uniquely sourced gold plated embellishments to finish its simple yet unique and delicate look.
Shop owner Grace Kim is a full time graphic designer for a clothing company based in Chicago. Although she enjoys making graphics, she missed being more hands on in making art. Grace began designing her own earrings with the desire to spread positive energy and overall good vibes while doing so. She named her brand, Love That because she hopes when people wear her earrings that complements their personality, they will truly "Love That."
Love That
Glenview, IL
View Instagram Page
More things to do in Chicago:
• Oak Brook Artisan Market – 2-Day Outdoor Market in Oak Brook, IL
• Chicago Artisan Market – Best of the Midwest in Fulton Market and Ravenswood