Long Table Pancakes is a small-batch pancake mix company in Chicago from Samuel Taylor and Susanna Taylor. They work with small farmers and millers to deliver the freshest possible grains grown on local Midwest farms. Their goal is to deliver to the consumer a tender cake that is also an unshakeable breakfast.
Shop and support Long Table Pancakes at the Chicago Artisan Market  in Fulton Market on Sunday, October 17, 2021 at Morgan MFG (401 N. Morgan St., Chicago). Discover top Chicago & Midwest artisans in food, fashion, home goods + art.
The company is run from Chicago's Lincoln Square neighborhood by Samuel and his mother Susanna. Samuel made whole grain pancakes five days a week for two years and took copious notes on the process and product in order to perfect the three flavors from Long Table Pancakes.
Chicago is at the center of North America's greatest grain-basket: flavorful, rich heritage grains are available here that are not available elsewhere. Long Table Pancakes provides their customers with top-quality, 100% whole grain stone ground mixes that are high in protein and fiber. They only use top-quality, locally sourced grains as they strive to support local farmers and millers.
White Knight (brunch style)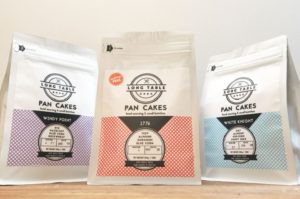 Made with oat, almond, popcorn and poppy seeds. Delicate and airy, the popcorn – air popped and then stone-milled is what makes these the fluffiest and tastiest pancakes you?ve ever eaten.
Popcorn flour – an invention of Long Table Pancakes.
Windy Point (lumberjack style)
Made with rye, hazelnut, blue corn and buckwheat. Tender and substantial, these cakes have an earthy, complex flavor. Maple syrup never had so good a partner.
Eat cake for breakfast work like a lumberjack.
Diner Style
Made with teff, almond, sorghum and blue corn. Classic and satisfying and made to remind you of the best nomnoms of childhood. Every batch is tested down to 10ppm gluten, so it's Celiac friendly.
Never give up the joy of pancakes.
About the owners:
In addition to developing the recipes and establishing Long Table Pancakes, Samuel Taylor is a founding partner in the Back Room Shakespeare Project and author of two books My Life With the Shakespeare Cult and Why Shakespeare Should be Performed in Bars. His mom Susanna is a retired movement teacher and therapist. She also runs Living Threads, an altar linen company giving fair-wage jobs to impoverished women in rural Haiti.
Long Table Pancakes
Chicago, IL
View Website
More things to do in Chicago:
• Oak Brook Artisan Market – 2-Day Outdoor Market in Oak Brook, IL
• Chicago Artisan Market – Best of the Midwest in Fulton Market and Ravenswood