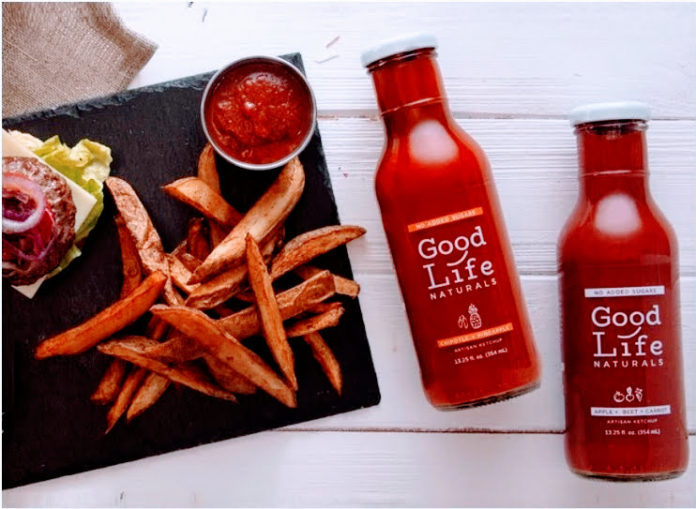 Good Life Naturals, from owners Holly and Hector Valencia, is a company that exists to create better-for-you and better tasting products the best way – with simple, easy to read ingredients, with nothing unnecessary in them. They carefully select the freshest, non-genetically modified ingredients and combine them to create simple but delicious products.
Shop and support Good Life Naturals on ArtisanDaily.com and at the Chicago Artisan Market in Fulton Market on Sunday, October 17, 2021 at Morgan MFG (401 N. Morgan St., Chicago). Discover top Chicago & Midwest artisans in food, fashion, home goods + art.
• Ketchup – A low carb, low sodium, non-GMOs artisan ketchup made from fresh ingredients, without high fructose corn syrup or refined sugars.
• Salsa – Good Life Salsas are made with traditional Mexican ingredients, inspired by recipes passed down through generations in Hector's own family. Made with no sugars, no vinegars, no extra fillers and no GMOs.
• Granola – Delicious, handmade granola, made from only the best ingredients, none of which are genetically modified – the only thing filling the bags are pure, delicious granola ingredients.
Holly and Hector were raised in completely different cultures but with the same values instilled by their mothers: to eat and make food cooked from scratch with whole ingredients. When they were approached in 2016 to build a company around a ketchup made from fresh produce and without sugar, they were thrilled. About a year later, granola became part of the project, and Good Life Naturals was born.
Good Life Naturals products are made with all natural ingredients and follow their mission to only "Eat what's good!" Their commitment to feeding their family only the best foods made from the cleanest and most natural ingredients carries over into the foods produced by Good Life. If the owners wouldn't feed it to their family, they wouldn't feed it to yours.
Holly and Hector work hard everyday to craft better, healthier versions of your favorites. They are problem solvers who are passionate about simple, flavorful food solutions.
Good Life Naturals
Alto, MI
Shop Good Life Naturals on ArtisanDaily.com
More things to do in Chicago:
• Oak Brook Artisan Market – 2-Day Outdoor Market in Oak Brook, IL
• Chicago Artisan Market – Best of the Midwest in Fulton Market and Ravenswood