Good Goods makes chic, re-usable gift bags with love for both people and our planet, so you can keep the magic of wrapping presents without the waste.
Shop and support Good Goods at the Chicago Artisan Market in Fulton Market on Sunday, October 17, 2021 at Morgan MFG (401 N. Morgan St., Chicago). Discover 100 top Chicago & Midwest artisans in food, fashion, home goods + art.
Wrapping and bagging gifts offers a special touch, and opening them is a magical moment full of excitement. Good Goods would never want to take that magic away so they created reusable gift bags from sustainable and eco-certified fabric – gift bags that will create magical moments over and over again but don't create waste.
Good Goods gift bags come in sizes from small to large, a big bag option, wine bags, a kid's collection and many seasonal and theme varieties. Made from bamboo, cotton and spandex fabrics, all the reusable bags will not rip or tear, and can even be machine washed and dried.
Did you know?
An estimated 30 million trees are cut down each year to produce wrapping supplies? Each year in the United States alone, 2.3 million pounds of wrapping paper and supplies end up in landfills. 227,000 miles of wrapping paper thrown out after one use. This amount could wrap our planet along the equator 9 times!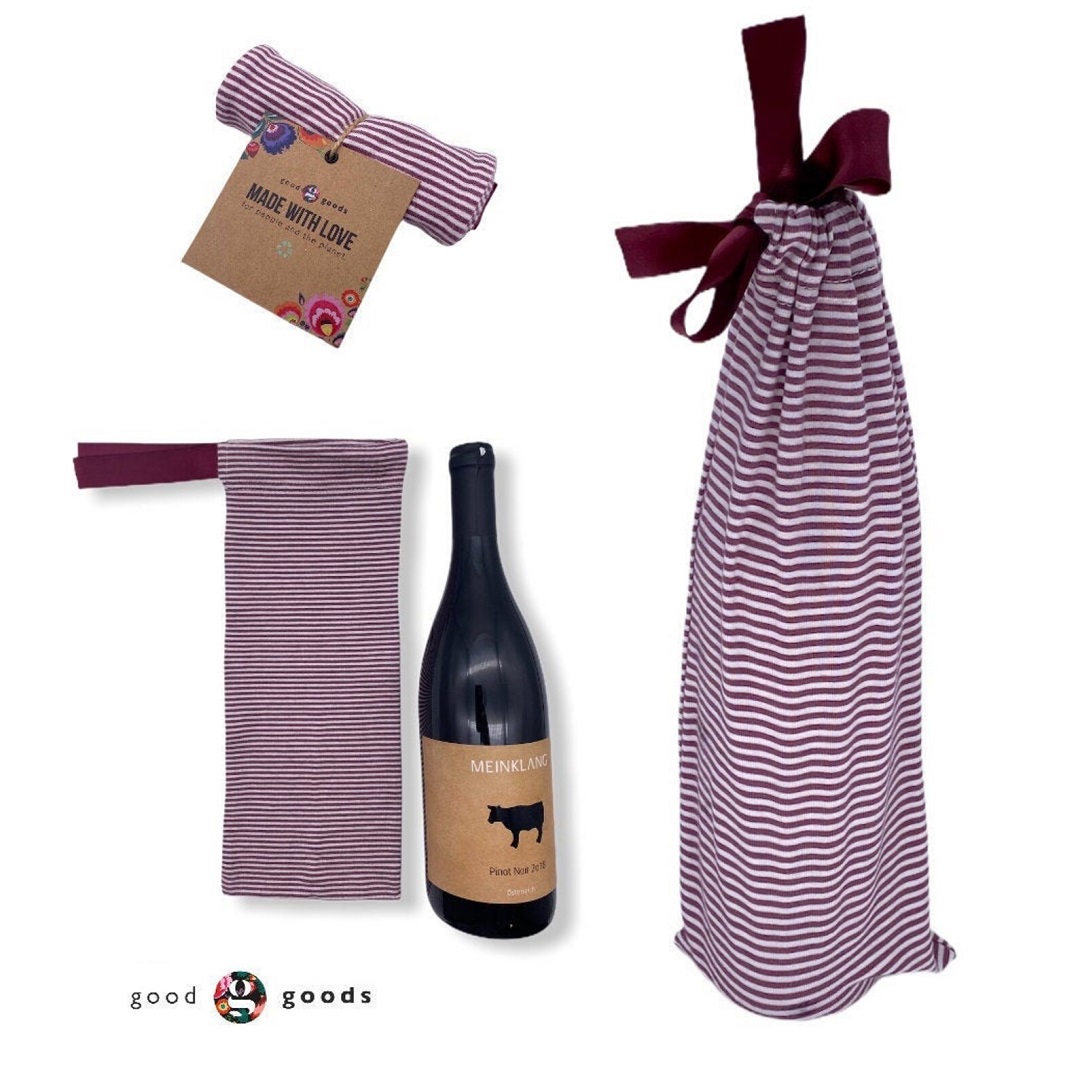 Wrapping paper and paper gift bags are often dyed and laminated, and can contain non-paper additives such as gold and silver coloring, glitter and other plastics which make them non–recyclable or compostable. Most importantly, they are harmful to our lands and waters, which means, ultimately, they are harmful to us.
Good Goods has partnered with One Tree Planted to plant a tree for every 10 bags sold! Trees clean our air and water, create habitats for biodiversity, contribute to our health and wellbeing, and create jobs for social impact.
About the Artisan:
Creator Anna Malus-Kitzmann is a mom to two daughters, desiring to creating positive change and living more sustainably. It is extremely important to her family, and they do their best every day to live more eco-consciously, especially when it comes to creating less waste.
After a family Christmas Eve, Anna realized they had produced two gigantic trash bags full of wrapping paper, paper gift bags and bows. She cringed at what she saw and started researching how to properly recycle all the paper … and what she found out made her cringe even more; most of the paper couldn't be recycled. The waste created by wrapping paper is absolutely insane.
Anna left her well-paying advertising job to pursue a dream of creating products which will help reduce waste in our world while bringing beauty, joy and easy solutions to everyone.
Good Goods
Chicago, IL
View Website
More things to do in Chicago:
• Chicago Artisan Market – Best of the Midwest in Fulton Market and Ravenswood
• Oak Brook Artisan Market – 2-Day Outdoor Market in Oak Brook, IL
• StyleChicago.com's 7th annual Cruise in Style aboard the Odyssey – Dinner Cruise