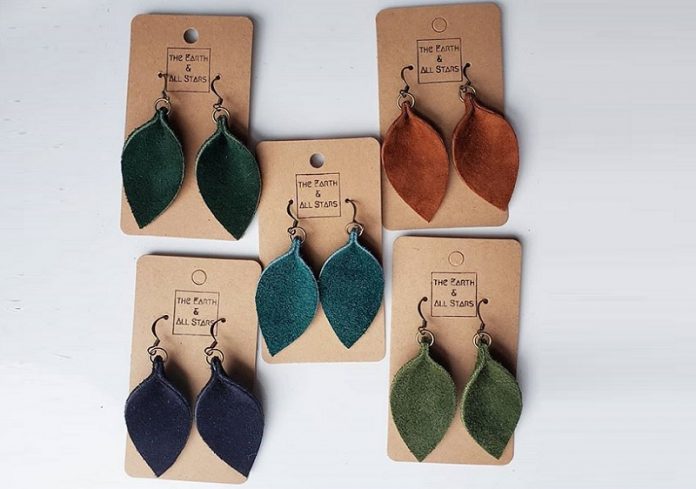 Wear jewelry pieces from the Earth & All Stars by Stacey Stewartson with confidence knowing it is her priority to utilize salvaged sections of hide, scraps and up-cycled leather whenever possible. With soft, natural leather as the main component of her jewelry, each piece is lightweight and extremely comfortable to wear.
Meet & shop with the Earth & All Stars at the holiday edition of the Chicago Artisan Market on Sunday, December 1, 2019 from 10am-4pm at Morgan MFG (401 N. Morgan St.). Discover 100+ top Midwest artisans in food, fashion, home goods + art.
Current inventory includes a variety of bohemian statement earrings and necklaces, semi-precious stone and leather pendants and bracelets.
the Earth & All Stars jewelry is created out of a love of color, shape and texture. Each piece usually starts out as a sketch which is then translated to a pattern piece traced with ink; sometimes, shapes just emerge from scissors and leather bits. The highlight of the process, for Stacey is the cutting. Using a standard, sharp scissor, a rotary cutter, strap cutter and variety of Xacto blades, she enjoys the simple challenge of getting as close to "perfect" as possible without ever using a die or laser cutter.
the Earth & All Stars
Milwaukee, WI
View Etsy Page