Fit Your Jeans to Your Genes: Denim Fit Guide for Women
The Denim Fit Guide assumes you know your body type. If you are not sure, see the "What Body Type Am I?" Fit Guide for Women).
Denim trends come and go, from super-skinny to wide-legged, but every woman needs that one pair of jeans that fit her like a custom-made glove, making her feel fashionably fabulous. And with the sheer volume of designer denim lines skyrocketing, you're sure to find several styles that look and feel wonderful on your body.
Read on below for tips for successfully draping your shape in denim. Also, don't miss our online and local shopping options for finding that perfect pair.
Using the "What Body Type Am I?" categories ("H" or Ruler, "A" or Pear, "8" or Hourglass and "V" or Funnel), we'll outline the things to look for when searching for the ultimate pair of jeans to flatter your individual shape.
"H" or Ruler Body Types
"H" or Ruler body types tend to lack curves and are what some refer to as "boyish." (We prefer "slender.") When it comes to jeans, Ruler-style figures have plenty of options, but should look for a longer rise and embellished or flap back pockets to create the impression of some contour.
"Low-rise is not always a bad thing," says Nikki Salk, manager of The Denim Lounge. "It helps to balance out the length of the torso, rather than giving all of the length to the legs."
Rulers can actually pull off the skinny jean trend, but also look fantastic in jeans that run straight from the hip to the thigh, breaking into a bootcut at the hem. And, as many Rulers also tend to be tall, make sure your jeans have a long enough inseam and fall to the bottom of your heel in back to avoid the dreaded "high-waters" look.
Recommended brands: Paige Premium Denim, Rock & Republic, True Religion, Hudson
"A" or Pear Body Types
The "A" or Pear body type is known for its curvy hips and fuller legs. To create balance, look for jeans with a slightly wider flared hem. A boot-cut silhouette is universally flattering as it creates the look of a longer leg. Also search for simple, medium-sized, well-placed pockets without much adornment to downplay your backside. Trouser-style jeans also work well, as they fall straight from the hips down the leg, creating one continuous line.
"A higher-waisted jean, which is very much in style right now, is flattering for a pear-shaped body as it gives you extra coverage where your figure type tends to need it," says Alle Fister, public relations director at Shopbop.
Recommended brands: 7 For All Mankind, Grey Ant, Tag Jeans, 1921, Serfontaine
"8" or Hourglass Body Types
Feminine, voluptuous curves look best when given some freedom, so look for denim with a bit of stretch. Citizen of Humanity jeans are heralded for their 98% cotton/2% Lycra fabrication. Darker washes also minimize the lower half and create the illusion of length. With your enviable tiny waist, you might have trouble with gapping at the back of the waistband, so look for a higher rise and a fitted waistline.
"The Honey style by Joe's Jeans are made especially for an hourglass figure," says Nikki Salk of The Denim Lounge.
Recommended brands: Citizens of Humanity, Joe's Jeans, David Kahn, Chip & Pepper
"V" or Funnel Body Types
The narrow hips and slim legs of "V" or Funnel body types look best in slim-cut jeans with contoured waistbands, such as a cigarette style. When worn with a sleek, tunic-style top, slender jeans will elongate your torso and make your legs look endless.
"Jeans with a slight flare are also great to give volume to a smaller lower half, balancing out your frame," says Alle Fister of Shopbop.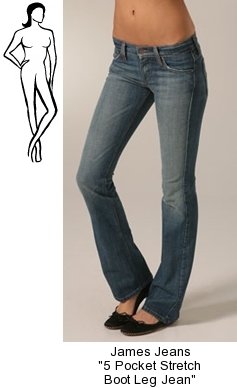 Lighter washes will help accentuate the positive (your lower half) and de emphasize your larger top half. If you want to add a little lift to your rear, root out jeans that have higher back pockets that tilt slightly inward.
Recommended brands: James Jeans, William Rast, Ranahan, Nobody