Wood worker and shop owner David Choi of Dchoi Designs designs and makes custom furniture, cutting boards, knife blocks and serving trays out of his workshop in Chicago.
Shop & support Dchoi Designs at the Chicago Artisan Market on Sat & Sun, May 1-2, 2021 at Artifact Events (4325 N. Ravenswood Ave., Chicago). Discover top Chicago artisans in food, fashion, home goods + art. (mask required, social distancing in place)
Known for strong, clean lines in his design style, David builds his original pattern pieces from premium hardwoods including walnut, cherry, sapele, paduak, maple and ash.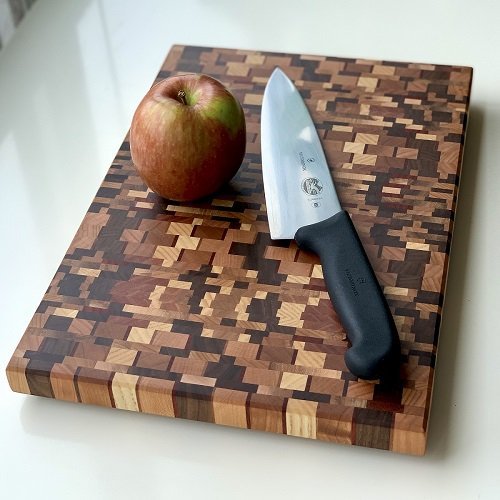 Full End Grain Glitch Board:
This beautiful end-grain cutting board is a true workhorse in the kitchen. This handcrafted board handles all types of cutting, chopping, slicing, carving or cleaving. The perfect size for any style and size kitchen work space. End grain structure provides incredible durability, will not dull your knives as easily, and can naturally heal the knife marks on its surface.
Red Oak Knife Block


This beautiful knife block is made from Red Oak, Bamboo (skewers) and is inlaid with black tinted epoxy on the cut edge. The live edge corner provides an organic designs element that is sure to elevate your kitchen. Slot-free design safely stores a wide variety of knives and eliminates the potential of damage to blades that may scrape the sides of traditional blocks.
• Easily fit a 12" Chefs Knife
• Store kitchen shears, honing rod and other flat kitchen utensils
Dchoi Designs
Chicago, IL
View Website
More things to do in Chicago:
• Oak Brook Artisan Market – 2-Day Outdoor Market in Oak Brook, IL
• Chicago Artisan Market – Best of the Midwest in Fulton Market and Ravenswood