Charing Cross makes available extraordinary, independent fashion, and they bring the designer?s story to the forefront of the retail experience. They don?t just sell clothes; they sell inspiration. Inspiration lightens and uplifts and trickles into every aspect of our lives.
To see the Charing Cross look book, please visit their website.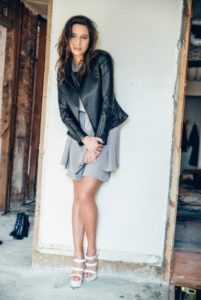 Charing Cross is doing something different in retail. Today in fashion, choices are abundant and most things are mass marketed. While the Fast Fashion phenomenon (cheaply and quickly produced clothing) may make things affordable and easily accessible, it can take the character out of a creating a special piece.
They still believe in the industry?s
roots in quality and
thoughtful craftsmanship. They feel it?s the integrity of the craftsmanship and the designer?s vision that has the potential to inspire us every morning. Their goal is to offer an alternative to fast fashion, where the designs have a soul and the ability to inspire personal style.
Specializing in jumpsuits (with pockets!), vegan leather
jackets, the always-flattering Grecian dress, tops and the
unique two-way linen sweater, Charing Cross is eager to help
you find the perfect look for your lifestyle.
Be sure to stop by and visit the Charing Cross table at StyleChicago?s FashionChicago Shopping Party on Friday, May 4, 2018.