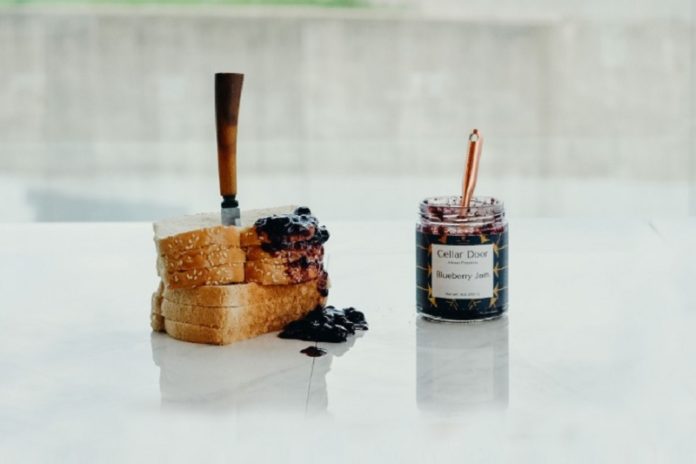 Cellar Door Preserves are made by hand in small batches in Grand Rapids, Michigan using traditional methods. Their care and attention to detail is evident in each premium product.
We are excited to welcome Cellar Door Preserves to the Chicago Artisan Market at Morgan MFG (401 N. Morgan St., Chicago) on Sunday, December 1, 2019 (10am-4pm) along with 100+ top Chicago & Midwest artisans in food, fashion, home goods + art.
Believing that cooking falls somewhere between craft and art, Cellar Door Preserves creates flavors for general consumption (like their Strawberry Preserves), and experiments with flavors that push boundaries (like Raspberry Jam with Lavender).
Our favorite flavors:
? Peach Jam with Brown Sugar – Brown sugar brings out the caramel flavor of the peaches. A pinch of salt is added for a slight salted caramel effect. This preserve is incredible over vanilla ice cream, on toast, or paired with a strong cheese.
Ingredients: Peaches, Brown Sugar, White Sugar, Lemon Juice, Salt, Cinnamon
? Blackberry Jam with Lime – Make blackberry margaritas! This preserve is also great with toast or as a cheesecake topping.
Ingredients: Blackberries, Sugar, Lime Juice, Lime Zest
? Balaton Cherry Jam – Balaton cherries are a variety of sour cherries that originated in Hungary and are now grown in Michigan. They have gorgeous red flesh and a deep cherry flavor. This preserve is a Michigan treat to be sure.
Ingredients: Balaton Cherries, Sugar, Lemon Juice
? Raspberry Jam With Lavendar – With just the right amount of sweet and floral, use as the middle layer of a cake, stir into plain yogurt, or pair with strong cheddar cheese.
Ingredients: Raspberries, Sugar, Lemon Juice, Lavender
The preserves are available in classic 9-oz. jars, and they make larger sizes for food service. They also do custom orders for special events or weddings.
What makes Cellar Door Preserves stand out from the rest?
? Small Batch – All the preserves are made in small batches, allowing the most flavor to be harvested out of the fruit. You will taste pure fruit, not water or other preservatives.
? Artisan – Creating the flavors everyone knows and loves while also experimenting with flavor combinations that push boundaries are key strengths to the label. Every jar of premium preserves is made by hand using traditional methods.
? Local – Cellar Door preserves are proudly made in downtown Grand Rapids, MI with local ingredients (whenever possible) which benefits the local economy and the environment. Michigan grows a great variety of produce (more variety than any state other than California), and they embrace what Mother Nature gives right here in the upper Midwest.
? Sugar – Most of the preserves do contain sugar, but the preserves always have more fruit than sugar. Sugar is a natural and traditional preservative, and when used in the right amount, it enhances the flavor of the fruit.
The Cellar Door Preserves website has a great variety or tried-and-true recipes for you to try.
Cellar Door Preserves
Grand Rapids, MI
View Website