BuildWithWood jewelry, from artisan Erin LaRocque, is miniature wearable nature pieces that celebrate the world's fungi and flora, including the native plants that surround us in Chicago and the Midwest.
We are excited to welcome Erin of BuildWithWood to the Chicago Artisan Market on Sunday, December 1, 2019 from 10am-4pm at Morgan MFG (401 N. Morgan St.), where she will join 110+ top artisans in food, fashion, home goods + art.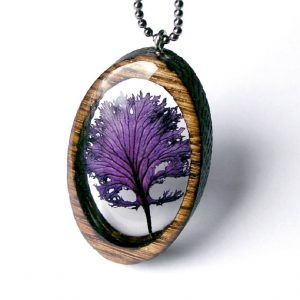 BuildWithWood resin and wood necklaces celebrate the incredible and minute details in nature that normally go unnoticed. Many of Erin?s favorite subjects are the native plants found right here in Chicago and from her homestate of Michigan.
A forager and plant aficionado, Erin collects all manner of leaves, ferns, flowers, fungi, lichen, seeds and any other interesting growing specimen to use when she creates the terrarium-like pendants.
She custom designs and laser cuts her own Oak or Cherry Wood frames to complement each unadulterated specimen from her collection. Erin slowly builds up layer after layer of jeweler?s grade epoxy resin until each selection is completely encased and preserved. Each piece is then carefully sanded, polished and stained, then finished with a stainless steel bail and hung on an adjustable chain.
BuildWithWood
Chicago, IL
View Etsy Page