Black Angel Designs, from Chicago area husband-and-wife team Graig and Cortney Kinzler, is proud to offer high quality, handcrafted wood signs, stone coasters, home decor, apparel and gifts that feature original art, photos and designs.
We?re excited to welcome Black Angel Designs back to the Chicago Artisan Market at Morgan MFG (401 N. Morgan St., Chicago) on Sunday, December 1, 2019 (10am-4pm) along with 100 of the Midwest?s finest in food, fashion, home goods + art.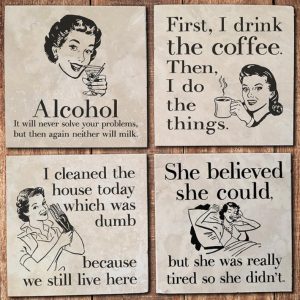 Black Angel Designs uses graphic design and an ink image transfer process to create wood signs and tile coasters that feature the history and best aspects of our fabulous city, a humorous look at life and fan favorites featuring professional and college sports teams. Custom images and sizes are available for order, as are their industrial modern furnishings.
About Black Angel Designs:
Graig and Cortney Kinzler make all the coasters and wood signs by hand in their home studio in the western suburbs of Chicago, and Cortney creates all the graphic designs. They use a print company to create t-shirts and other gifts with their original designs. All products are made in their smoke-free, pet-free studio.
Black Angel Designs
West Suburban Chicago
View Etsy Page