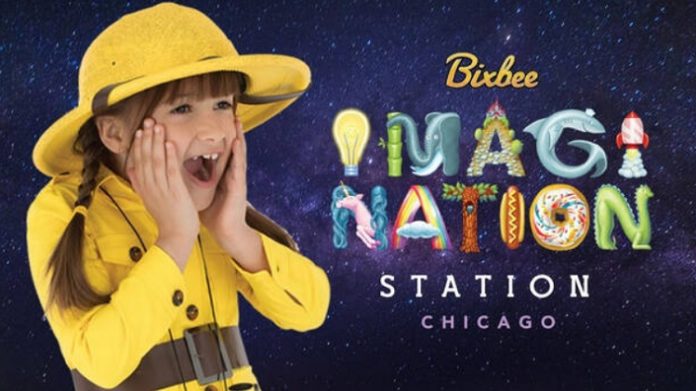 An experiential pop-up inspired by a child?s innate ability to transform their reality into a fantasy world powered by nothing more than their own creativity, Bixbee Imagination Station is equal parts funtastical playground and imagination jump starter!
Purchase discount tickets to this event.
Start Date: Thursday, October 3, 2019
End Date: Monday, January 20, 2020
Time: varies by date
Location: Bixbee Imagination Station – 915 W. North Ave., Chicago, IL 60642
Cost: $8 – $13 (Ticketing processing fees apply.)
Buy Tickets
Additional dates and times may be available. Times and prices vary by date. Please view ticketing page for details. ** Offer not valid on Tuesdays and Wednesdays **
Come discover a world every kid (and kid-at-heart) wished truly existed. Enter an un-charted playground where you can ride a polka-dotted elephant and spot cheeky, technicolor monkeys. Ignite a brilliant light show with just the beat of a drum. Ride a mythical unicorn blazing across a disco rainbow sky. See human connectivity come to life like an electric spirograph. Share secrets with your bestie via flower blossoms. Explore outer space with a surfing, taco loving dinosaur, and take a selfie inside a ferociously, friendly shark!
** Offer not valid on Tuesdays and Wednesdays **
More half-price, discount and pre-sale theater tickets, comedy, musicals and more.