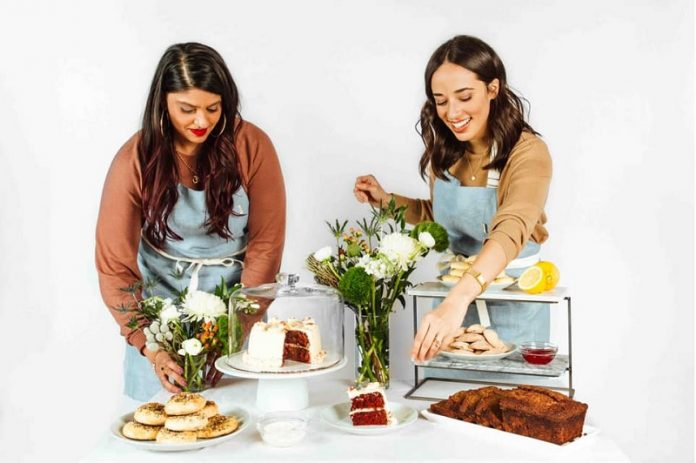 BaKIT Box is a female, minority-owned company based in Chicago that sells all-inclusive baking kits, making baking easy and accessible to all levels of home bakers. Each kit is delivered right to your door and features a detailed recipe card and all the pre-measured ingredients needed for a delicious bake.
Shop and support BaKIT Box at the Chicago Artisan Market in Fulton Market on Sunday, October 17, 2021 at Morgan MFG (401 N. Morgan St., Chicago). Discover 100 top Chicago and Midwest artisans in food, fashion, home goods + art.
Offering a constantly changing selection of recipes ensures the customer always finds something new and inspiring every month. From cookies to cakes to savory bakes, each BaKIT Box makes baking easy and fun for everyone.
Recent BaKIT Boxes have included:
• Apple Hand Pies
• Zucchini Sweet Potato Bread
• Pumpkin Spice Cupcakes
• Tres Leches
• New York Style Everything Bagels (Vegan)
• Salted Chocolate Chip Cookies
• Jalapeno Cheddar Cornbread
• Lemon Ricotta Cookies
With diverse and cultural selections, easy-to-follow recipes, and all the pre-measured ingredients required to create a delicious bake at home, no trip to the grocery store is needed! Every month features all new recipes – some will be easy and some will be challenging. All will give you a chance to bake truly delicious treats.
Each box of fresh products is packed with care using a biodegradable, insulated box with water soluble, cool gel packs designed to keep your food refrigerated.
About the founders:
BaKIT was founded by Shelley Gupta & Carla Medina Jacobson, two minority entrepreneurs who are best friends. They have always supported each other in life and found a way to spend even more time together with the founding of their company. Like most of their customers, Medina and Shelley are not baking professionals, but they love baking and trying new recipes.
BaKIT Box
Chicago, IL
View Website
More things to do in Chicago:
• Chicago Artisan Market – Best of the Midwest in Fulton Market and Ravenswood
• Oak Brook Artisan Market – 2-Day Outdoor Market in Oak Brook, IL