Alchemy Detroit allows women to celebrate their unique individuality by striving to offer timeless garments made from the highest quality Italian fabrics with an emphasis on detailed American craftsmanship. Alchemy is a collection of elevated basics, sophisticated design, and made in America by designer Shelley Van Riper.
Please visit the Alchemy Detroit website to learn more about the company.
Born in Detroit, Alchemy stands for personal originality and ingenuity and allows women to celebrate their individuality. The label prides itself on intentional design that integrates seamlessly and effortlessly into the modern lifestyle, be it board meeting or weekend brunch.
With an ode to bespoke tailors, the collection delivers discerning attention to detail; re-imagined for hardworking career mavens, domestic warriors, young professionals and mature matriarchs. Their pieces are meant to be worn and lived in.
Painstakingly selecting the right pieces – custom buttons, virgin wool and cashmere from Italy, Tibetan yarns woven on antique looms in Florence – and infusing them with a humble tenacity, is the brand ethos of Alchemy Detroit.
Taking sartorial cues from menswear, their approach embodies Detroit?s proud legacy for American craftsmanship and industrious ingenuity.
Don't miss the Alchemy Detroit table at StyleChicago?s FashionChicago Shopping Party on Fri May 4, 2018.
About the founder: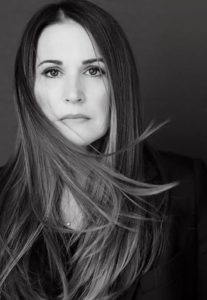 As a Detroit-native, Shelley Van Riper spent twenty years building a successful career in corporate America before leaving to take on a new, sartorial challenge as Founder of womenswear label Alchemy Detroit; a menswear-inspired line known for deceptively simple sophistication, flawless construction and a keen sense of classic lines.
After years of frustration searching for the perfect blazer, only to encounter an increasing trend toward poorly-made, yet still expensive labels, Shelley imagined the welcome return of investment pieces that would last a lifetime. Alchemy Detroit speaks to Her brilliance, celebrates Her individuality, and supports Her individual style.
What started as a label for Her has quickly expanded to include Him?husbands, boyfriends, fathers and grandfathers now wear their tees, jackets and scarves. We all look forward to their continued evolution!