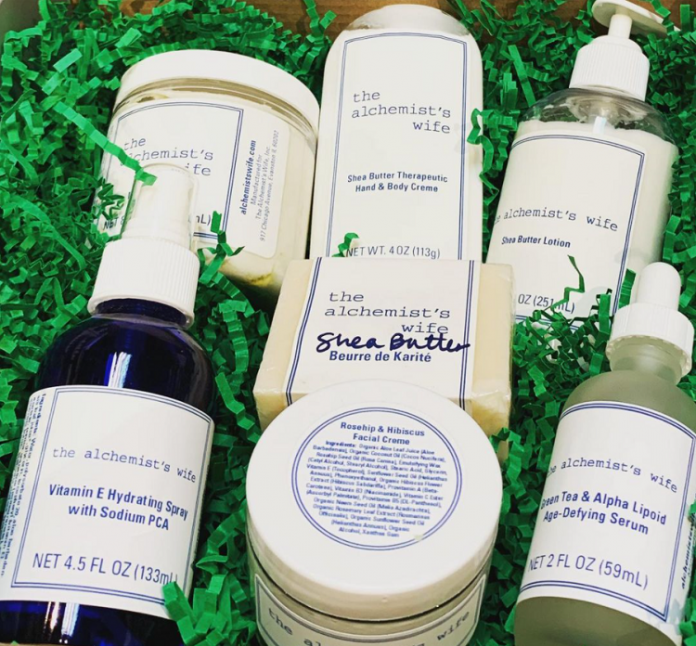 The Alchemist's Wife is an Evanston-based purveyor of hand-crafted bath, body and skincare, soaps and bespoke fragrances, handcrafted from the finest, responsibly-sourced botanicals.
Meet and Shop The Alchemist's Wife  Chicago Artisan Market in Ravenswood on Sat- Sun, April 22-23, 2023 at 4325 N. Ravenswood Ave., Chicago (Artifact Events Bldg.). Discover top Chicago & Midwest artisans in food, fashion, home goods + art..
Ramie, owner and founder of The Alchemist's Wife, sells all-natural, organic bath and body care products that smell amazing and are created with quality ingredients. All the products are all paraben-free, phthalate-free, sulfate-free and cruelty-free.
Some best-sellers include:
• Hand Sanitizer – made with organic ethanol derived from non-GMO sugar cane and organic aloe vera, available in scents like French Lavender, Lemon, Tea Tree and Eucalyptus.
• Body & Linen Spray – these light, refreshing sprays can be used as both a body scent and a gentle scent for linens and bedding. Scents include Ginger & Thyme, Persimmon, Fresh Rain, Basil Citrine, Gardenia and more.
• Homemade Soap – oatmeal soaps with shea butter, Dead Sea mud soaps and vegetable glycerin soaps all with natural oils
Micellar waters, serums, balms, creams and lotions are also crafted and available for purchase. The completely natural and organic skin care products will leave your skin feeling silky, fresh and clean.
We all go through everyday stresses, but we may not have time or money for a spa. No appointment is needed to pamper your mind, body, and soul with The Alchemist's Wife.
Why The Alchemist's Wife was created:
When Ramie's son was born, she started using all the common brands of baby lotions, washes, and laundry detergents that everyone else used. But her son was extremely sensitive to the fragrances and dyes in the products. Ramie started looking for alternatives because she didn't want to see him have another bad skin reaction.
She learned that not everything labeled "natural" was actually purely natural. Ramie spent a good deal of time reading labels and making his food. She switched to natural and organic cleaning products and found that it had a positive effect on the whole family. She then started reading and experimenting on her own to create completely natural bath products and soaps. Because what you put on your skin matters, Ramie became dedicated to sourcing the highest quality ingredients for her line.
The Alchemist's Wife was born from necessity and has grown to a family-run business committed to bringing the finest ingredients into your daily-use products.
The Alchemist's Wife
Evanston, IL
View Website
More things to do in Chicago:
• Oak Brook Artisan Market – 2-Day Outdoor Market in Oak Brook, IL
• Chicago Artisan Market – Best of the Midwest in Fulton Market and Ravenswood