Ahki Design Jewelry, from artisan Nora Gardner, specializes in handcrafted, original, metalsmithed jewelry. Sterling silver, bronze, copper, brass, cabachons, fossils and crystals are utilized in designs to create unique, one-of-a-kind jewelry. Owning a piece of Ahki Design Jewelry is a constant reminder of how courageous you are, the battles you?ve won and the strength you have to achieve your dreams.
We are excited to welcome Ahki Design Jewelry along with 100+ top artisans in food, fashion, home goods + art to the Chicago Artisan Market at Morgan MFG (401 N. Morgan St., Chicago) on Sunday, December 1, 2019 from 10am-4pm.
Why purchase boring, mass-produced jewelry that thousands of other people are wearing? Jewelry is an expressive statement about who you are as a person. That's why Nora creates uninhibited, no apologies jewelry. Heavily influenced by metal techniques and icons from medieval history, all the jewelry is handmade … all metalsmithed jewelry is handcrafted and designed to speak to your uniqueness.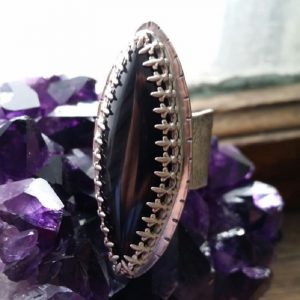 How does a piece of jewelry speak to you? All you need to do is calm the outside noise and listen. Will this piece jazz up your day…or your life? Will it make a wonderful, thoughtful gift for someone who appreciates the personal touch? Can you see yourself indulging in jewelry that is a statement? Ahki Design Jewelry should touch your soul, and Nora loves to work with her clients to do custom creations.
It's eco-friendly, too.
As a good citizen of planet earth, the Ahki Design sterling and copper jewelry is made from recycled metal from a supplier that offers documented recycled metals options. Certified metals are materials that are already above ground, thus relieving the pressure to mine the earth for more metals.
About the artist:
As a self-taught jewelry artist and metalsmith, Nora Gardner gets along with the help of her husband, a few friends and her dog Hawker as she creates her designs in her Chicago studio.
Ahki Design Jewelry
Chicago, IL
View Website